The Denshaw Whit Friday Band Contest began in 1993 and in its first year attracted 25 bands (with a few more spectators). In the subsequent years the contest has grown into an established, well supported annual event recognised for a friendly, welcoming and hassle free environment regularly attracting over 50 bands including some of the top names in the banding world.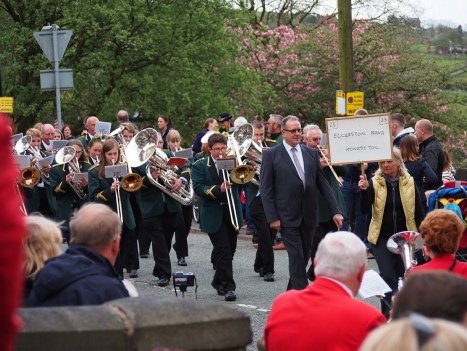 The unique nature of the Whit Friday Band Contests means that the committee have no idea which bands will play on the night and at what time. The bands often plan a route and attempt to play at as many contests as time permits. The Denshaw contest has always been fortunate enough to attract a wide range of Championship, Youth and overseas band which add to a varied and enjoyable event.
Our contest adjudicator (Allan Holdsworth) is sat away from the the crowds in the upstairs room of the Oddfellows club. Hidden from view (and unable to see the bands) Allan adjudicates each band that plays throughout the night. The score and comments from Allan are then compiled into a full results list and prizes awarded accordingly.